online lesson and camp registrations for the 2022 season now open
UPCOMING Lesson
Schedule for 2022:
August Camp – August 2 – 15

(Mondays, Tuesdays, Wednesdays, Thursdays, not including holiday)
A total of 8 classes
Maximum 8 students per class.
$120.00 (non members) $105.00 (members)
12-1 p.m. (Age group 7-11) NOTE: As of July 11, 0 spots remaining

1-2 p.m. (Age group 12-16) NOTE: As of July 11, 4 spots remaining
Download the registration form below and send, along with your e-transfer payment to:
info@broadmoortennis.com
(Include your FULL NAME & PHONE # in your e-transfer message)
Form works best on a standalone PDF viewer (e.g. Adobe Acrobat) that supports JavaScript.
Download the form instead of using the browser's embedded PDF viewer. 
Alternatively, return paper copy or email a scanned/photo copy of your completed form.
Tennis Development Coordinator
Preston Codrington brings a lot to Broadmoor Tennis Club, with his impressive knowledge of tennis and his multiple playing awards. Preston previously coached for a year and a half with Capilano and through the Edmonton Junior Tennis Society. He works with adults and juniors of all skill levels.
Private and Semi-private lessons can be arranged by contacting Preston directly (prestoncod@icloud.com).
Rates/hour: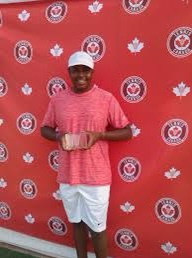 Clubhouse phone: 780-467-6300
Email: info@broadmoortennis.com
Mailing address: Box 3088, Sherwood Park, AB, T8H 2T1