A SOCIAL OUTDOOR TENNIS CLUB WITH A VITAL COMPETITIVE ELEMENT FOR EVERYONE WHO LOVES TENNIS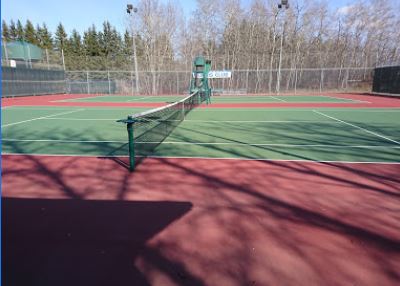 We have 4 regulation Plexipave courts, fully lit for night play. Surrounded by trees, the club provides a calm setting for playing tennis. A clubhouse with washroom is on site. A ball machine is available for member use, and an online court reservation system is available to make bookings.
The club is open during the summer months with play starting as early as April and ending in October depending on the weather.
The Broadmoor Tennis Club attracts 175+ members each year. The club has a recreational atmosphere and consists of members who are friendly, enjoy socializing and love to play tennis. The Club is volunteer based, and members are also asked to help run the club, organize events, fundraise for projects and promote tennis the Sherwood Park area.
Membership registration for the 2023 season is now open.
Lesson and camp enrollment information for the 2023 season is now open.
Broadmoor Tennis Club is located at 2100 Oak Street, Sherwood Park, AB, adjacent to the Broadmoor Public Golf Course.
Clubhouse phone: 780-467-6300
Email: info@broadmoortennis.com
Mailing address: Box 3088, Sherwood Park, AB, T8H 2T1